Ambulatory Surgical Facility License
Ambulatory Surgical Facility License - Aesthetic Facial Body Plastic Surgery of Bellevue | Seattle
We are very excited to be licensed by the Washington State Department of Health as an Ambulatory Surgical Facility. The state licenses more than 180 ambulatory surgical facilities (ASF) in Washington to provide outpatient surgical services that have proven to meet the health and safety standards established by state law. This licensing process examines all aspects and phases of the facilities operations to determine compliance with applicable statutes, rules and regulations. Our team has worked hard for months to achieve this licensing. This new Ambulatory Surgical Facility License represents our dedication to constant improvement in our office and validates our commitment to providing each or our patients with the highest degree of care.
Here is Aesthetic Facial Body Plastic Surgery's Ambulatory Surgical Facility License: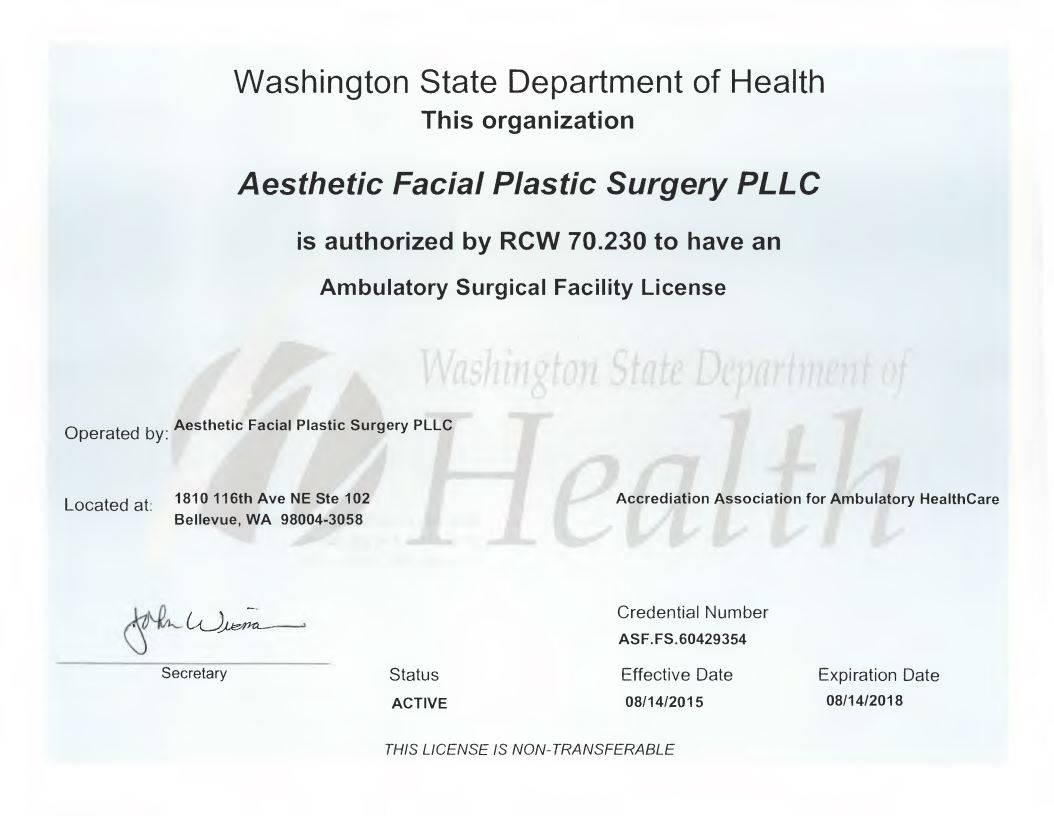 We want the best for you. Dr Young always maintains, as much as possible, an open door policy to help people. Even if you were to decide to go to another doctor for the same procedure, Dr Young would always welcome you to email or call our office anytime for help.
Primary Breast Augmentation
Rikesh Parikh MD, Aesthetic Facial Body Plastic Surgery
"Highly recommend to anyone that is looking for a good plastic surgeon!"
View all Google reviews

Note: Individual results may vary. Images do not constitute a promise or representation of any particular outcome or experience.
Rikesh Parikh MD, Aesthetic Facial Body Plastic Surgery
1810 116th Ave NE #102, Bellevue, WA
x
Philip Young MD, Aesthetic Facial Plastic Surgery PLLC  
"My treatment for acne scars went very well and have seen some good improvement."
View all Google reviews
Philip Young MD, Aesthetic Facial Body Plastic Surgery
1810 116th Ave NE #102, Bellevue, WA
x
Hear Meghan's Experience